Hi my friends! It's been a minute since I have been on land for a spell that I can get something out to you. I have a few shows that I want to alert you to and I would love to see you and greatly appreciate you spreading the word if you have friends and family in New York City, West Palm Beach, or Kansas City! 
First up, 
Weill Hall, at Carnegie Hall, NYC Monday, May 22!

The amazing Stacy Sullivan and I will be presenting our new show of Frank Sinatra and Peggy Lee music at Carnegie Hall! We are so excited and it promises to be a lot of fun and incredible arrangements for Piano, Bass, Guitar, and Cello by Yasuhiko Fukuoka and Troy Fannin.
Presented by The Edward F. Limato Foundation
The show is at 8pm, May 22. We hope you or your friends will make a point to come celebrate this lifelong friendship of Frank and Peggy and their music.
CLICK ON THIS LINK FOR TICKETS:
Frank and Peggy TICKETS for May 22.
On our way to New York, will make a stop in
Lee's Summit, MO!
We will present our Frank and Peggy show as a fund raiser for the First Presbyterian Church of Lee's Summit
made possible by Tom and Roxee Beaver
Saturday, May 20, 2023
Doors open at 6pm, show is at 7pm.
Call 816-835-8356
NEXT UP APRIL 20th,
 WEST PALM BEACH, FL!
I will be performing a night of Swing and Crooning, Bing to Beatles, Elvis to Leonard Cohen, one night only with the incredible Alex Rybeck!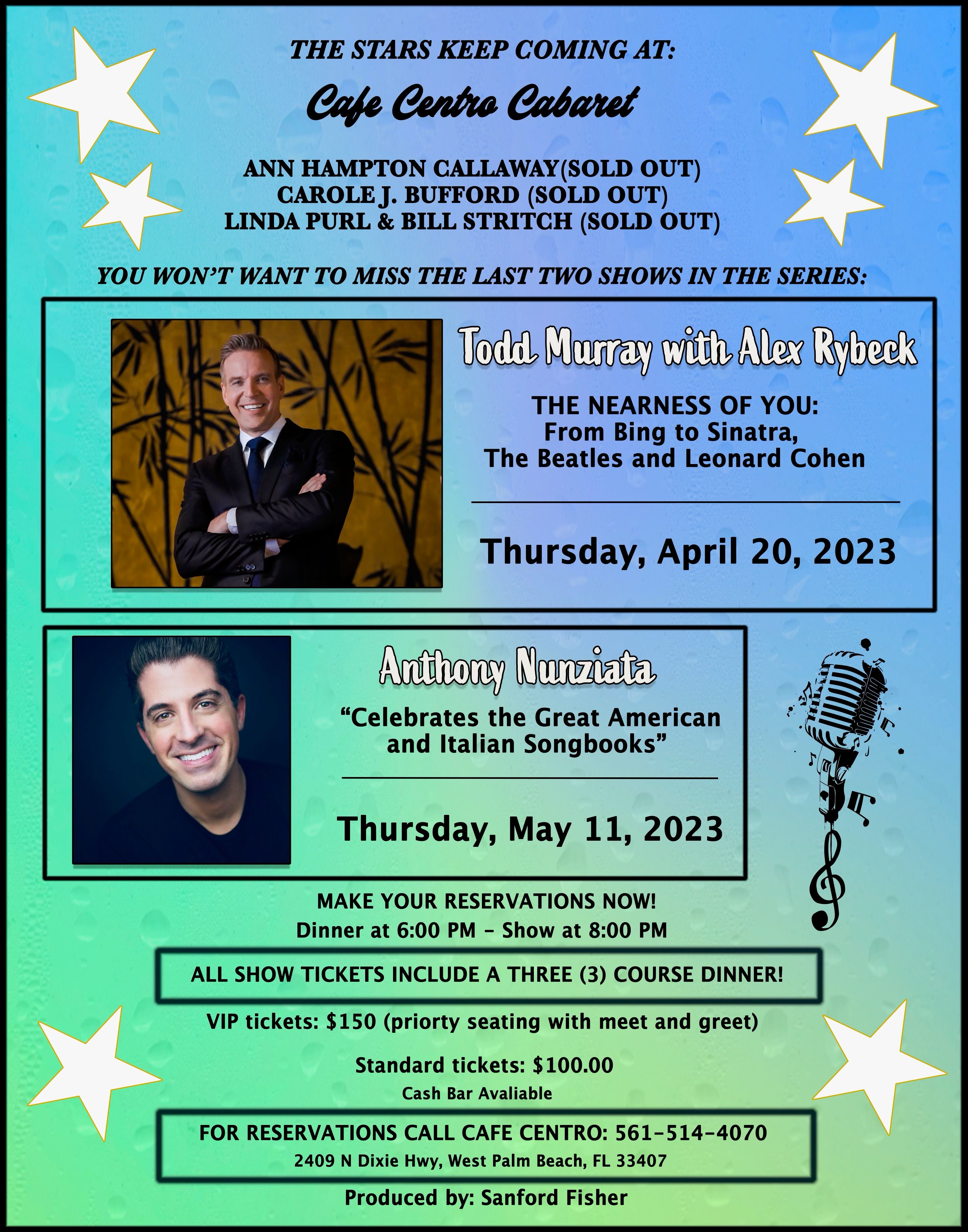 One night only, Thursday, April 20. Dinner and Show!
for Reservations call: 561-514-4070
If you read this far, thank you! I hope to see you at one of these events and if you are interested in cruising, take a look at my calendar at website:
LOVE YOU ALL!
Share | Todd Murray
Autumn is upon us!
SEE YOU SOON!
Latest news: It has been a great year for travel and catching up with family and friends, now looking forward to working more this fall. My two Christmas tunes continue to do well....can you believe, "I'm Gettin' Into The Swing of Christmas" had over 52,000 streams on Spotify, and "Let's Hear It For Santa Claus" had 31,700 streams!
CLICK ON EACH SONG TITLE TO SEE THE MUSIC VIDEOS.
Take a look at the dates below, a few guest appearances, a mini West Coast Tour of CROON with Alex Rybeck, Steve Doyle and Sean Harkness, and I continue to try to get my Christmas songs placed in Movies or TV or Ads. Many of you have been screaming HALLMARK! believe me I am trying and they know I'm alive I assure you.
Also my music continues to be played on SiriusXM,
Channel 71 Siriusly Sinatra
You can continue to ask ALEXA, or iTunes Radio, Spotify or Amazon Music for all of my music. Pandora has my holiday tunes, and I am waiting for confirmation of the rest of my catalogue.
Thank you for your support as always. Here are the upcoming dates as of now, Just click on the date and you will be directed to the tickets page. Also, still looking for a booking, private or outside of LA Nov. 16th
*guest star only
Sept.29 - Project Angel Food Show, Catalina Jazz Club*
Oct. 31 - Jazz At Lincoln Center, Cabaret Convention*
Nov. 08 - Beach Cafe Solo Show w/ Yasuhiko Fukuoka
Nov. 13 - Martini's Above Fourth, San Diego CROON
Nov. 14 - Feinstein's at Vitellos LA, CROON
Nov. 15 - The Purple Room, Palm Springs CROON
Nov. 16 - LOOKING FOR A BOOKING Private or Outside of LA
Nov. 17 - LA Public Library Matinee afternoon talk and music
Nov. 23 - Desert Winds Band presents GERSHWIN, Palm Sorings*
Dec. 21-22 Johnny Holiday Big Band, LA, CA*
Jan. 15 - Live At Lynn, Boca Raton, FL CROON
Apr. 17-19 Brownville Concert Series, Brownville, NE w/ Stacy Sullivan "Lady and The Tramp...the musical romance of Peggy Lee and Frank Sinatra"
It's here gang! my new music video! Hope you have as much fun listening and watching as I had making it. CLICK PHOTO BELOW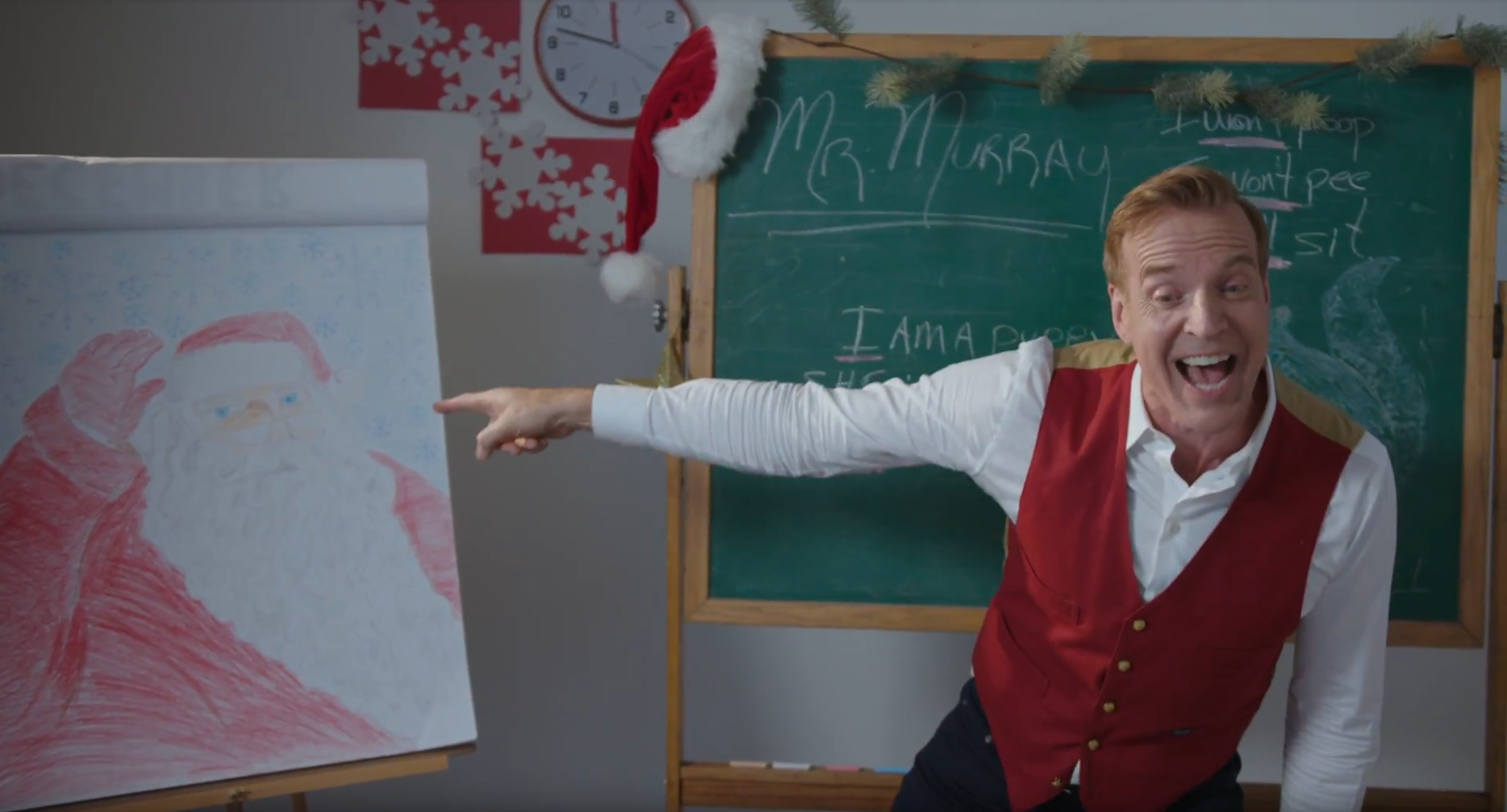 DOWNLOAD YOUR FREE RINGTONE AT THE BOTTOM OF THIS EMAIL!!
Hope you liked the "I'm Gettin' Into The Swing of Christmas" video too. This new one is fun and great for kids!! Would you help me spread the word?? THE MORE VIEWS THE BETTER!! Here's what you can do! Forward this email to friends and family. Recommend them to view the videos, request the songs, stream them, listen to them, download them, add them to their holiday play lists! "Like" it!
Tell people it's better than "CATS"
If you stream, please give it a thumbs up or click the heart. Request the tunes on your favorite local radio station. Sirius has not added it to their holiday channel, but SiriuslySinatra has!
CLICK HERE: Write to Sirius Here to request.
You can cut and paste the following links and pass it around! Spread the word that both of my new Christmas songs are available for stream and download on iTunes, Amazon, CD Baby, Spotify, Pandora, etc.
Here are direct links:
"Swing of Christmas"     YouTube
"Swing of Christmas..."     iTunes
"Swing of Christmas..."   Amazon
"Swing of Christmas..."   CDBaby
"Let's Hear It For Santa..." YouTube
"Let's Hear It For Santa..."    iTunes
"Let's Hear It For Santa..."  Amazon
"Let's Hear It For Santa..."  CDBaby
The list is very long for thank yous for this video, most notably Richie and Craig and Oliver and the Ed Limato Foundation and Re-Creation for making it possible. Douglas Sills for the location, Johnny Holiday for the cardigans, Mragendra Singh and Shardul Sharma for direction and production. Jonathan Ocampo for love and support, and my friends and family...well I am very very rich and fortunate indeed. Thank you all for your love and help!
And Willa...I thank Willa. #adoptdontshop
Now sing-a-long!! "Let's hear it for Santa!!!!"
OH AND CLICK HERE FOR A SING-A-LONG VIDEO!!
KIDS LOVE IT!!
So excited to share with you my new tunes.
"I'm Gettin' Into The Swing of Christmas"
"Let's Hear It for Santa Claus"
BOTH HAVE BEEN ACCEPTED TO
PANDORA, SPOTIFY, iTUNES, SIRIUS XM, AMAZON
FOR STREAMING!
I REALLY NEED YOU NOW. ADD THEM TO YOUR PLAYLISTS!
WHEN YOU HEAR THEM "LIKE" THEM
---
AS MY GIFT TO YOU, I HAVE ATTACHED A FREE DOWNLOAD OF
"LET'S HEAR IT FOR SANTA CLAUS"*
Kid's love this tune!
*(Scroll to bottom of page. Please don't send the song out as I am hoping to generate sales. This is for you!)
I am up against the big boys when it comes to getting my music heard and out there, I can only do that by you spreading the word. Please forward this if you wish or cut and paste the links. PLEASE PASS THE VIDEO LINK AS MUCH AS YOU CAN!  YOU CAN ALSO GIFT THE SONGS THROUGH AMAZON AND iTUNES!
THANK YOU!THANKYOU!THANKYOU
HERE ARE THE LINKS!!
---
Video LInk: "I'm Gettin' Into The Swing of Christmas"
iTunes LInk:     "I'm Gettin' Into The Swing of Christmas"
Amazon Link:  "I'm Gettin' Into The Swing of Christmas"
CD Baby Link: "I'm Gettin' Into The Swing of Christmas"
iTunes Link:              "Let's Hear It For Santa Claus"
Amazon Link:            "Let's Hear It For Santa Claus"
CD Baby Link:           "Let's Hear It For Santa Claus"
I CAN'T DO THIS WITHOUT YOU
THANK YOU FOR SPREADING THE WORD!
I am eternally grateful for the generous help of Richard Konigsberg and Craig Olsen and The Ed LImato Foundation. I can only hope to make Ed proud of the music I made and in continuing his entertainment legacy. Also, was such a pleasure and heart warming to be in my old house. Thank you Douglas Sills for providing the home/set to be inundated with a film crew and my size 13's dancing around the house.
The swing tune has been in the making literally for 10 years, I started writing it while singing Christmas concerts in Switzerland in 2006, then tried it out with the CROON musicians, then sometime later added the verse. With the help of Dennis McCarthy arrangements and Jon Levine producing, it became a reality. The Santa tune was written, 75% of it, on Christmas day 2016 at my piano in West Hollywood. Talking it through with Jonathan Ocampo, and then fine tuning lyrics on the plane back from NYC in January of 2017. Jon Levine asked me to write another verse of the bridge ("Let's dream of snow and of mistletoe...") I did so in the car from Santa Monica to Beverly Blvd...about 5 minutes, when it flows it flows. I am really hoping the Santa tune gets to the kids somehow...it's catchy and fun and easy to remember. Both have amazing musicians, including a string orchestra that we watched record live in Macedonia! Video production team headed by Mainak Dhar, Sharduhl Sharma, Mragendra Singh and thank you Natalie Berendes for the referral for this amazing production crew.
Huge shout out too to Simon Leslie-Goldstick for dawning a choir robe and acting as my perfect choir boy. Willa the pup was fun too, if my video get's any traction, I am making #adoptdontshop a public platform to adopt our amazing dogs rather than breed them. Did you know Willa was found at www.pets.overstock.com??
HI All!
Hope everyone is having a great summer season! I have had a great start to summer singing Cole Porter among other greats  along with Billy Stritch, LeeRoy Reams, KT Sullivan, Anna Bergman, Jim Caruso, Gabrielle Stravelli, Natalie Douglas, Jeff Harnar, Karen Oberlin, Steve Ross, James Followell to name a few. All is moving along on my side and I wanted to give you some exciting updates. First:
August 23, 8pm (doors open 6:30)
The Nikko Hotel in San Francisco
I am excited to perform with the renowned jazz pianist
Quinn and I have performed one-offs from time to time in LA but this is our first full show collaboration. Quinn is a recording artist as well as the amazing Steve Tyrell's full time music director. Click on the logo above for tickets and please tell you SF friends.
*******
I'm On Sirius XM!
I was notified that they have added 12 of my cuts to the Siriously Sinatra Channel. If you are a subscriber, tune in and let me know if you hear one of them! What a kick in the head!
*******
Opening Night
October 9th
Jazz At Lincoln Center, NYC
I am excited to be performing with an amazing opening night cast once again as a part of The Cabaret Convention. If you have never been, this theater has amazing sound and the show celebrates the American Song Book. Click on the logo above for details.
**********
My new Christmas tunes "I'm Gettin' Into The Swing of Christmas" and "Let's Hear It For Santa Clause" are in the can with full strings and brass and ready to be released on Thanksgiving Day, 2018. We will be shooting music videos in August (will be interesting in 95 degree weather in LA) but looking forward to it. If you know of anyone doing Christmas movies, TV, cabaret shows that may need new material...these are goodies!
There will me more to come in a few months. I have been asked to present the Christmas Show with Sally Wilfert, Stacy Sullivan, and Kristoffer Lowel from last year at The Brownville Concert Series in North Carolina the first weekend in December. As soon as contracts are signed, I'll let you know! Possible new gigs at The Cicada Club this winter as well..stay tuned. Below some fun pics. Hope to see you at San Francisco or NYC gigs soon!
THANK YOU AS ALWAYS FOR YOUR SUPPORT!
Julia Riva,Debbi Whiting, Rene´ Reyes
Anna Bergman KT Sullivan, Patricia Watt, James Followell, LeeRoy Reams
Pianist Alex Rybeck  *photo cred Joel Rothstein
Jeff Harnar, Sally Darling, Richard Skipper, Karen Oberlin, Daryl Kojak, Leslie Orofino
Producer Jame DeRoy*
My sister BJ and me on a Staten Island Ferry ride
The amazing Klea Blackhurst!*